Trusted Family Chiropractor in Springwood
Cactus Chiropractic Lifestyle Centre has been helping Logan families achieve their health goals for over 15 years. Logan chiropractor, Dr. Brian Peterson and his team are committed to supporting you in whatever your health goals might be.
Whether it's back or neck pain, postural misalignment or a sports injury that is affecting your overall health, Cactus Chiropractic Lifestyle Centre can provide chiropractic solutions to help you.

Chiropractic Solutions To Meet Your Needs
At Cactus Chiropractic Lifestyle Centre, we focus on utilising a wide range of modern chiropractic techniques that alleviate your pain to help improve your vitality and health. Our deep understanding of the relationship between the spine, nervous system and how it affects your overall well-being allows us to deliver chiropractic care that is suitable for anyone:
Children
Newborns
Seniors
Expecting Mothers
Sports Related Injuries
Occupational Related Injuries
Postural Misalignment
Start Your Journey To Better Mobility Today -
Call (07) 3808 8040 or BOOK ONLINE Now!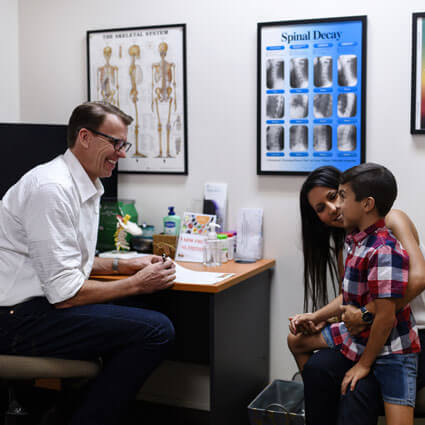 Gentle Chiropractic For Logan Families
The chiropractic treatments offered at Cactus Chiropractic Lifestyle Centre are gentle yet effective – with the aim to get you moving with ease and enjoying life again! Dr. Brian has expertly helped many patients from around Slacks Creek, Kingston, Daisy Hill, and Logan improve their health and vitality, using his 21 years of experience and extensive knowledge. If you or a family member is experiencing pain or discomfort that is affecting quality of life, then don't delay in booking an appointment.
Claim Our $85 New Patient Special – Call (07) 3808 8040 Now To Get Started

Affordable, Effective Chiropractic Treatments
Chiropractic treatments do not have to cost a fortune! At Cactus Chiropractic Lifestyle Centre, you will find our fee schedule fair and affordable. Improving your overall health with chiropractic treatments is achievable, as we provide flexible payment plans and fantastic special offers. Our practice provides the following:
PAY-AS-YOU-GO
Accept All Health Funds
Have HICAPS On Site
Honour GP Referrals For Government Funded Chiro Treatments
Putting up with pain and discomfort can become a thing of the past – Call (07) 3808 8040 today or book directly online!

Family Chiropractor Providing Chiropractic Care for:
Slacks Creek, Logan, Daisy Hill & Surrounds