About Us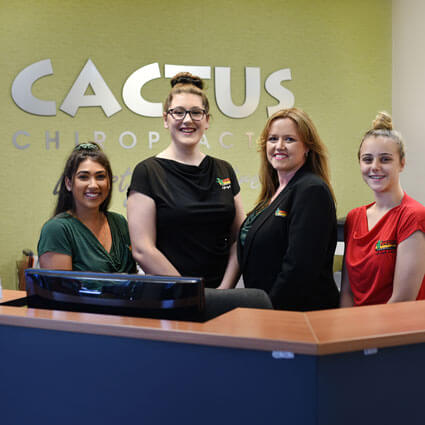 Since 1999, Dr Brian Peterson (Chiropractor) has been serving our beautiful community with natural healthcare solutions. At our chiropractic care centre we want to increase the awareness of health and let people know they're in charge of their wellbeing.
We want to empower people to take more control of their own health. At Cactus Chiropractic Lifestyle Centre, we believe that a healthy diet, proper exercise and chiropractic care will allow you to enjoy optimal health-the natural way!
In addition to chiropractic care, we also offer massage and health coaching. With so many services under one roof, you can get natural, high-quality care in a single location.
Relax in Our Welcoming Practice
Our practice is not your typical doctor's office and we like it that way. Our patients do too! Instead of a cold and clinical feel that some medical offices have ours is warm and homely. Lively music will be playing and our smiling team members will greet you.
Before their appointments, some patients like to come in and read a book. We even have a lending library.
Helping You Understand Your Health
Our goal is to help families in our community reach peak health through natural chiropractic care. We want to educate patients about chiropractic to help make a difference in their lives.
Providing Whole Person Care for All Ages
We love seeing patients of all ages, from young children to older seniors and every age in between. Many families come for care. Whether we're providing natural relief of back or neck pain or are offering exercise recommendations or nutrition guidance, we are here for you. Our care is focused on the whole person, not a collection of symptoms.
You're in Control
While we provide chiropractic care and guidance regarding healthy lifestyle habits, you're always in charge about the care you receive. We will provide you with our best recommendations but will never push long-term care plans.
MEET DR. BRIAN PETERSON »
Contact Us Today
Call (07) 3808 8040 today to book an appointment!

About Cactus Chiropractic Lifestyle Centre | (07) 3808 8040