Meet Dr Brian Peterson (Chiropractor)
"Superheroes have always fascinated me as a kid. I loved it when my grandma would clip a towel around my neck, and I would pretend to fly around her house, rescuing people from some evil empire or madman."
Growing up in Arizona, Dr Brian's heroes became firemen, policemen or guys in the Secret Service or the Army. "I loved stories of some brave soldier risking his own life to save those of other guys in his platoon."
Dr Brian got to live out his dream when he graduated secondary school and joined the Air Force, where he became a firefighter. The firefighters' motto goes, "fighting fires and saving lives!" and he loved it. "Although the only fires I ever fought were brush fires, and I never got to drag anyone out of a burning building. I absolutely loved being a fireman. I truly enjoyed being in the position of helping people when they got into trouble."
Dr Brian began to realise that what he was really doing as a firefighter was helping people after it was too late. The car crashes, the heart attacks, the rescues were like waiting for someone to fall from the cliff and then attempt to save their life. "What I really wanted to do was get to the top of the cliff and stop the people from falling off in the first place."
Listen to Dr Brian's interview with The Transformation Project:
Finding a Calling in Chiropractic and Wellness
One day, Dr Brian's grandma gave him a single-page description of what chiropractic was. He liked the philosophy of chiropractic that health comes from within and that chiropractic can help the body express itself better.
Dr Brian began to form a philosophy about health—that the body is amazing. The self-healing and self-regulating properties of the human body, anything that has life really, is remarkable. The chiropractic lifestyle not only reduces the stress on the body, but it also increases the body's ability to adapt to stress. This is what attracted him to chiropractic.
EXPLORE OUR SERVICES
Obtaining a Chiropractic Education
To prepare for his career as a chiropractor, Dr Brian earned a Doctor of Chiropractic from the University of Western States. "My favourite part of my time in chiropractic school was the study of anatomy and physiology. I immersed myself in studying how the body works, how everything works together. I love the philosophy of caring for the body from the inside out, instead of treating outward symptoms."
Dr Brian is a Primal Blueprint Certified Expert and can assist patients with caring for and healing your body using ancestral principles of nutrition, movement, sleep and thought patterns.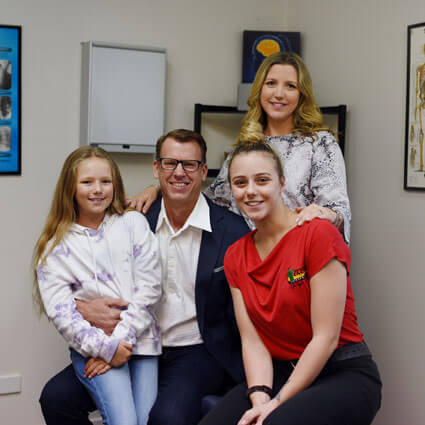 A Special Interest in Caring for Children
Dr Brian loves caring for families. He finds it particularly fulfilling to care for children of those who he saw as kids.
When their older daughter Chiara-Lee was struggling, doctors wanted to label her with ADHD and put her on medication. "That's when we started looking more into nutrition and seeing the difference that food and sleep could make." According to Dr Brian, those changes improved her behaviour.
Their younger daughter had bacterial meningitis at four weeks of age and was in the hospital for six weeks on eight different antibiotics. She had no gut bacteria due to the antibiotics and was sick all the time as well. That translated into trying to understand nutrient density and how to heal our bodies from those kinds of toxins.
"Every day, Yvette and I are able to relate our experiences to other parents."
The Chiropractic Lifestyle
The chiropractic lifestyle gives Dr Brian a map for where he needs to go with regards to his health. Learning how to improve your ability to adapt to stress by getting back to nature. Learning how to eat, move and think as humans should.
Dr Brian and his family live busy, active lives. They enjoy playing sports together. "My daughter and I particularly enjoy basketball. My wife and I participate in obstacle course events, and we encourage our friends and community to join in the fun!"
Book an Appointment
"I'd love to have you join me in living the chiropractic lifestyle. Contact us today to schedule a convenient appointment!"


Dr Brian Peterson (Chiropractor) | (07) 3808 8040