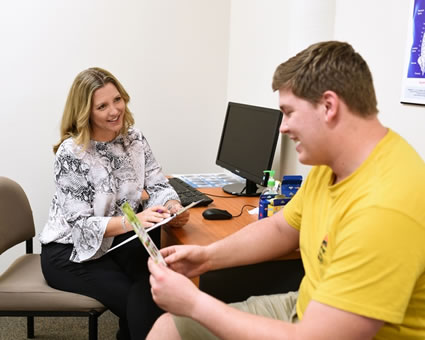 Health Coaching in Springwood
Whether you want to pare extra pounds, have more energy or just feel better, we want to help you. At Cactus Chiropractic Lifestyle Centre, we offer health coaching to guide the overall process. This process includes clarifying your vision of what you want for your health and defining strategies for maintaining success after you have achieved your goals.
NEW PATIENTS

We Are Here for You
Endowed with holistic knowledge of how fitness, nutrition, mindset and lifestyle influence health and wellbeing, Dr Brian Peterson (Chiropractor) and Yvette Peterson (Lifestyle Coach) work with clients to design an inclusive, flexible and responsive plan to move your daily habits towards healthy choices.
Witnessing an Increase in Health Challenges
Over the last 50 years, we have seen a dramatic rise in diabetes and obesity, autoimmune disease, asthma, food and environmental allergies. We help where other healthcare practitioners are unable to, giving you the following:
Specific goals to work towards
Recipes and diet guidelines
Exercises and lifestyle management tools
All of these can help reduce the stress that could be contributing to disease or illness. We follow up with clients on a regular, periodic basis to help them stay on track and answer any questions or concerns.
Providing Guidance and Support
As mentors, Dr Brian and Yvette are here to help guide, empower, support and motivate you to implement and sustain lifestyle and behavioural changes to achieve health, fitness and athletic goals.
We can assess your current fitness condition and work with you to design a dynamic, sustainable workout plan that fits your current needs and shifts with ongoing advancement.
Like therapists and life coaches, a health coach emphasises future goals but specialises in supporting each client's journey to health and wellness by offering both particular strategies and personal encouragement throughout your journey.
Our goal for you is uncomplicated even though the human body is complex: normalise hormonal responses by bringing in evolutionary patterns for modern-day lifestyles and bringing about desirable change in gene expression patterns towards optimum health. The result is a sensible plan that allows plenty of room for individual design and preference.
Offering Dietary Education and Information
We aim to educate clients about nutrition. We want them to know what they're putting in their body so they can make good choices and avoid so-called foods that are not so great. If you can't pronounce the ingredients, it's not real food!
Some people also may think a particular food is healthy but perhaps it's not. For example, though yoghurt contains probiotics, it also typically contains lots of sugar-making it therefore not a healthy choice.
We also may recommend an elimination diet. In that case, we can have you send us pictures each week of what you're eating.
Our philosophy is there's not a perfect diet but a diet that's perfect for you!
Empowering You to Make Major Changes
If you are looking to make significant health changes-from losing weight to addressing chronic conditions, transforming your fitness to improving your vitality-it's easy to become overwhelmed. This is where a health coach can make a remarkable difference. A health coach can provide the expert guidance and personal support to help people achieve their health goals, whatever they may be.
Discover more about our health coaching service by contacting us today to book a consultation!

Health Coaching Springwood, Logan, Daisy Hill QLD | (07) 3808 8040